It's All a Blur
Apr 22, 2011 - 10:10

After lunch I made my annual trip to the attic and pulled out my wedding dress. Oriella my dress maker told me of her neighbor who once a year gets all dolled up in her wedding dress and cleans the house.

While I don't think I need to go to such ends, I feel strongly about putting mine on once a year to be sure I can still fit into it. Is that weird? Perhaps. In fact, I did not attempt it having just eaten a substantial lunch and not wanting to be disappointed. I will put it on over the weekend, perhaps tomorrow before the onslaught of Easter lunches. I did however open up a few boxes and looked through the contents. I found a bag of candied almonds that had petrified after 5 years and a lace handkerchief that had not.

Fifty years before her daughter married an Italian in the Serenissima Repubblica; my mother made a stop in Venice on her European tour at the age of 18. She bought this bit of handmade lace as a keepsake and fifty years later I tucked it into my dress as something old before leaving for the church in Soffratta, a few miles outside of Venice. Life moves in circles that are often too perfect to question. I gazed at this bit delicate cotton which had travelled the world and wondered if I should send it back to my mother. After all, it might have been intended as something old and borrowed, not just something old.

In the evening Luciano and I walked to the church and touched that old door…now five years older.



On Friday we celebrated our fifth wedding anniversary. Never could I have imagined in my life I would be able to utter such a sentence, much less reach that milestone. Five years ago we married in a white and gold haze, standing on the uneven marble floor in the little church in Soffratta. People threw pasta in the church doorway; my bothers swept it up under the watchful eye of Don Gabriele and I oozed happiness. The Americans decimated the wooden boat with prosciutto sails and the Italians effortlessly cranked their way through seven courses that overwhelmed those Americans. We danced our waltz, my brother Dorsey drank a little too much grappa and la Nonna said, "Tonight I have wings."

The towering profiterole cake tipped over in a heap of white chocolate petals and pastry cream before any of the guests could see it and the caterer served it by the handful out of plastic bus pans.

I blissfully beamed.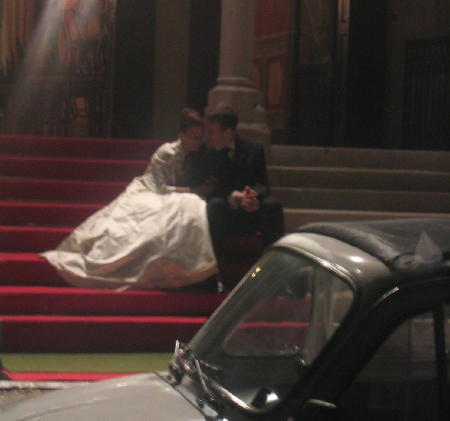 (courtesy of Giorgio)


But wait…wasn't all that yesterday? How could it be that five years has passed? I even ask Luciano if he is sure of the math. He rolls his eyes. But who am I to say? He is the mathematician in the family.

Ok, I suppose if I think about it, I can sense the passage of time. Don Gabriele has been put out to pasture in Miane. La Nonna is gone…not so long after she sprouted those wings in fact. Next door neighbor Augusta has also died and a new family is now working on making her house a home again. As I write they are knocking down the chicken coop where the red hens used to hide and cleaning the old bricks to use yet again. There are a few new babies around and I am now teaching English to one who came to our wedding before she was even born, in her mother's belly. The little red plum tree that Giancarlo planted before we got married is now, much to his chagrin, producing a bumper crop of yellow plums. Still no wrens have take up residence in the birdhouse. And after two years and fifteen minutes, we replaced our ancient television with an enormous digital marvel.

But I still tour around on my creaky maroon bicycle, the damn Italian cat still shits in my garden and Luciano still trims his toenails outside, even in the snow, after I asked him almost ten years ago to do so when he was visiting me in Berkeley.

I saw him headed to the fire escape with his clippers and stopped him. It was a cold day in California for such activity. I relented a little.

"Maybe you don't need to do that outside. Can you control your toenails?"

"They're going to fly like eagles."

"Ok, out you go. Close the door behind you."

Somehow the flying toenails don't bother me anymore; is that what happens after five years of marriage? Yet, he is careful to perform this act outside, no matter what I say.

I wonder how I lived my life so incomplete before; without this person who keeps an eye on me at parties to be sure I am happy, who remembers that certain grammar mistakes make me crazy, or who takes my hand if I extend it. How did I do it? We roll over for a goodnight kiss, like synchronized swimmers, each and every night… that is over 1,825 goodnight kisses. Here I had thought marriage was difficult. I was told it was work, even a struggle sometimes, but it seems to get even easier and satisfying, like a belly laugh, a good cry or… breathing.

In the recent balmy weather I dust off the maroon bicycle, Luciano pumps up my tires and I spin up and down our little street feeling the late afternoon sun on my face. Luciano, who has lately rediscovered photography, pulls out his camera. I like to think I am his muse, but in fact I am just a stand-in for a small, plastic bulldog named Mr Dobbs when he is feeling peevish. Mr Dobbs has become quite the internet sensation so I should feel lucky to be second string. He is actually quite good: he always hits his mark, is able to evoke all sorts of emotions and never worries about his butt looking big. But he cannot ride a bicycle and today I am just happy to be doing just that, in my favorite sundress, with the delicate breezes whipping about my legs with my husband laughing, shouting, "Ok, go a little faster!" as he trains his lens on me.

I ooze happiness.