Funghi In The Fall
Oct 29, 2006 - 19:32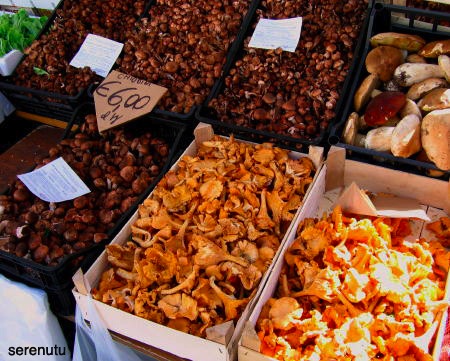 This was the weekend of chiodini. While most of the world was working on Halloween costumes, in this corner of Italy we became obsessed with this tiny wild mushroom that explode in the woods for a very brief moment. This is yet another example of being on the ball when it comes to seasonal foods. Here it is, one week later, and they are gone. As a test, I cooked up a small amount in a pan with a little butter, salt and pepper. They are delicious, dark brown and slippery, tasting of smoke and woods.

Luciano's father Giancarlo explained to me the meaning of the name. Chiodo is the word for "nail" in Italian. They do look like nails- unsorted, mismatched nails with a long stem and a tiny head. Because they are gathered wild, they are all different sizes, shapes and even colors depending on the soil and shade. I have to believe that they are indeed chiodini and edible...otherwise there can be no trust in the world. They are piled in vast boxes in every fruit and vegetable market only to disappear by lunchtime. The gatherers have to tromp the woods for the next batch.

Last weekend Uncle Danilo was in town for the weekend and we invited him over for dinner. I had it in mind (in honor of the mushroom bonanza) to make a typical mountain dish called pastine, which is a grilled sausage patty with polenta and chiodini mushrooms. That morning I went downtown and explained this to the butcher who listened closely, conferred with a fellow butcher, and then made up the concoction of pork shoulder, a hunk of fat back, slabs of bacon, salt and pepper. He told me to add white wine at the last minute.

The sausage done, I went in search of chiodini. But it being close to noon, they had disappeared. I had waited too long and had to, later in the afternoon, go to the neighboring village where I found a grocer who still had some stacked out front. I bought a kilo of the wildly differing brown and tan mushrooms. I had been talking with a friend the day before about cooking them. She said, "Oh yes, they take 3 hours to cook." I could not believe this. They are mushrooms. Three minutes in a pan, a little butter, salt, pepper and we are in business. Right? She insisted. Three hours.

Standing in the cramped greengrocer's store that smelled of earth and apples, I asked the man for cooking confirmation.

"Is it true that it takes three hours to cook these mushrooms?"

"Naaaah, two and a half, tops. And here is what you do: Wash them three times in salt water, put them in a pan with salt, pepper, olive oil and garlic and stir and stir on low heat."

"For two and a half hours?"

"Yes, and then...."

He went on with more details, but I had a hard time following him. I was thinking about the timing. It was already 3:00 and I was going to have to partially disregard this advice since I had already proven it to be dubious. Besides, he was speaking in dialect and had a crazy crooked tooth that distracted me. I thanked him and zipped home to throw all these mushrooms into buckets of salted water. With the late afternoon sun streaming into the house, I washed these wormlike mushrooms. The outside world may have been marching towards one crises or another. I had wild mushrooms to cook. I was up to my elbows in these buckets, picking out bugs, worms, pine needles and dirt, when Luciano's Uncle Alcide pulled up. His trunk was full of chiodini. He had just come from an expedition in the hills and his timing stunk. He paused however by my open kitchen window. He leaned over the window boxes of geraniums and rosemary and bellowed, "Hey, Americana! How is it going?"

"Hey, ciao Italiano! I am cooking chiodini. Look!"

He did not seem to hear me. His voice dropped, "So, are you happy here?"

"Yes. It is a beautiful life."

"We are simple people. But we know what is good."

And they do.
Orsago
Oct 09, 2006 - 22:00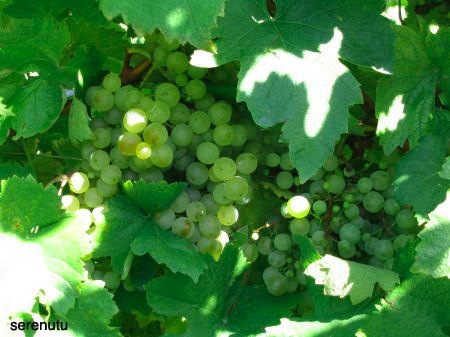 Every weekend, my husband and I chose and participate in one of the many trail running events organized by one the dozens of tiny villages in the hills surrounding Venice. Today we ran in a race in the village of Orsago. I chose the 7k and Luciano, as usual more ambitious than I, the 12k. At 9 am we joined the crowd at the starting line which as usual consisted of entire families including the dog, the grandmother, serious runners, and runners who would never consider winning, but show up to run, socialize and collect the prize. Our prize today was a half kilo of casatella cheese, a local product, which we could get after we finished the race. Part of the fun of these races is the imaginative prizes the organizers distribute, usually before the race even starts. In the races we have run over the years, I have gotten a broom, bottles of wine, potted plants, and once an entire raw chicken. They tossed them to us out of the back of a truck.

Another draw of these races, besides poultry, are the nicely marked courses winding though the magnificent countryside, usually of mostly dirt trails. Today was no exception with a route that led us on tiny gravel roads that curved passed ancient farms, grassy paths along a clear river and actually through a cornfield following tractor tracks between the towering stalks of corn, petrified in the sun. The trail entered a vineyard and after running passed at least a kilometer of vines, we arrived at the winery. Under the porticos of the vast 17th century building, the early morning sun slanted against the thick ivy on the ancient stone.

I stopped at the ristoro, or aid station set up in the winery yard and joined the small crowd, mostly out of curiosity. There the village ladies were serving cakes, cheese, sliced hot gluey sausage called cotecchino and of course, water, tea and wine. And there, in the middle of the vineyard, in the middle of a race, two men stood at an enormous cauldron, one stirring a brown concoction with a huge wooden spoon and the other crying out, "Fagioli, zuppa di fagioli! Bean soup! Come an' get it!" I could not resist and tried a bowl of the soup which was delicious, but pretty much ended my run. It did not matter, as I gently jogged the last two kilometers passed the elegant villas and overgrown formal gardens. All the better to appreciate the next villa whose main entrance we actually passed though and provided the possibility to better read the date, 1689, formed in the mosaic on the floor we ran across. At the finish line I was handed my half kilo of cheese and I strolled over the sample the local vino novo...jostling elbows with runners, kids and the old guys from the bar down the street who had wandered over to check out the action. What a lovely morning.