Artichokes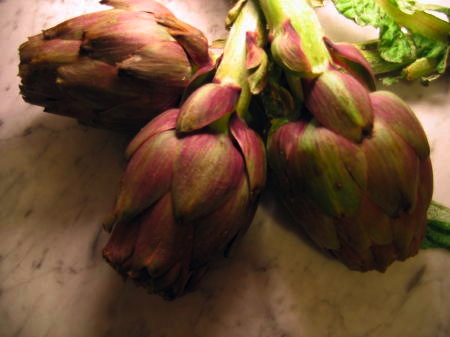 Anna Maria's Crema di Carciofi
Crème of Artichoke

With a lovely texture, delicate flavor and soft green color, this is a classic side dish to any kind of meat.

6-8 large cleaned fresh artichoke bottoms, or hearts
1 tablespoon of extra virgin olive oil
Approximately ½ cup of panna di cucinare (a very thick cream, an American equivalent could be ¼ cup heavy cream + ¼ cup plain Greek yogurt)

Steam the artichokes until tender, about 15 minutes. Place them in a food processor and add the oil and then panna, a little at a time, and blend to the consistency of creamy mashed potatoes. Add salt and pepper to taste and serve hot.

Serves four


Luciano Style Sautéed Artichokes

3-4 small artichokes
1-2 tablespoons capers
1-2 tablespoons of butter
1 tablespoon olive oil
Juice of one lemon
Salt, pepper

Wash the artichokes and snap of the tough outer leaves, breaking the leaves in half before pulling them away. In this way you will be able to leave the lower edible part attached. Remove at least three-four rows of outer leaves or until the leaves feel tender. (photo 1)

Cut off the tips of the leaves and cut artichoke in half (photo 2) and scoop out the choke, or the hairy bit of leaves at the heart. As you work, keep the cut artichokes in a bowl with lemon juice to prevent them from turning brown.

Meanwhile melt butter and olive oil in a saucepan over medium heat. Slice the artichokes thinly lengthwise and put into the pan with capers and any remaining lemon juice. (photo 3) Cook, tossing from time to time for all sides to brown, approximately 15 minutes. Add salt and pepper to taste. Eat immediately.

Two generous portions…Luciano likes this a lot.