Sea Fruit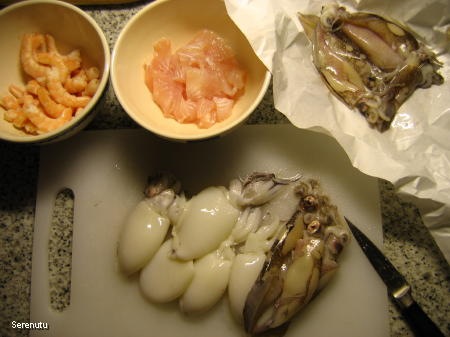 I stood in front of the iced bins in the seafood section of the neighborhood supermarket struggling to identify at least one of the alien beasts, products of the nearby Adriatic Sea, lying in artistic piles before me. I can do this, I thought to myself, and pointed to one animal after another, while the cheerful young man loaded up a bag for me.

"These are good, really fresh…now, what are you making?"

"A kind of seafood pasta."

"Oh then you will need a few of these." He grabbed another foreign creature. A few squirted out between his fingers and skittered across the ice.

"What is the name of that beast?"

"Polpo." They looked like miniature octopus, sort of. The young man's arms were scrubbed-clean-red. He spun the bag closed and handed it over to me with a smile.

"Good luck."

~~~


Seafood has never been a favorite thing for me to cook in any country. Certainly one of my favorite things to eat, but the trepidation that I might ruin an otherwise perfectly good piece of fish by overcooking, undercooking, or blowing the timing often stopped me cold at the fish market. I carefully spread out my flotilla of fish on the counter, picked up a knife, and took a deep breath. Some body parts needed to be removed. Somewhere. Dinner plate size eyes stared up at me, hopefully unseeing.

I needed reinforcements. I went next door.

"I need help."

Anna Maria dropped the newspaper and without a word, followed me next door where she deftly rendered the animals boneless, and beakless. She smiled at the folly of my planning a dinner for which I could not prep, but said nothing of it.

"See, there is a little mouth inside," she said as she pulled a tiny translucent set of jaws from what should have been the animal's butt. In moments I was ready to cook.

Alien Creature Linguini

3 tablespoons of olive oil
1 medium bulb of fennel, sliced thin
1 tablespoons of flour
½ cup white wine
½ cup of whole milk*
1 pound in total of whatever sea creature you choose, cut into same-size pieces.
1 pound of cooked linguini or fettuccini
chopped parsley
salt/pepper

Heat olive oil in heavy large skillet over medium-high heat. Add fennel and cook without stirring until browned. Stir in 1 tablespoon flour and cook 1 minute. Add ½ cup white wine, scrapping the bottom of the pan as you deglaze. Add ½ cup of whole milk and bring to low boil, stirring constantly. If sauce becomes too thick, add more liquid as needed (wine, milk or even chicken stock) a little at a time. Add creatures to the sauce and cooked through, stirring occasionally, about 5 minutes or until shrimp is pink and fish is opaque, etc. Mix in parsley. Season to taste with salt and pepper. Add pasta to the pan and toss. Serve immediately.

*Most similar recipes call for heavy cream. Whole milk eliminates calories, a special trip to the store and the extra expense without eliminating on taste.