Radicchio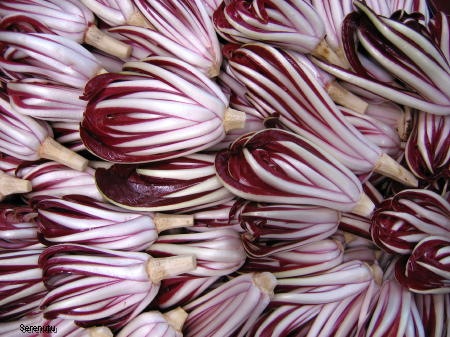 There is a bar in Treviso with a large framed painting above the overstuffed booth near the window. It is of a vegetable. As it should be, for radicchio (often strangely translated as "chicory") is our favorite son. There are at least four different kinds of radicchio with the torpedo-shaped Treviso or precoce radicchio actually finding its way to many American markets. It is red, slightly bitter and beautiful on a plate. It is however, the radicchio tardivo, with its wonderful combination of sweet-bitter ruby red tentacle leaves, which inspires festivals, brochures and entire menus in the local restaurants, especially when in season between November and January.

There is certainly a danger of taking this affection too far. I need only mention a popular garlic festival where one can sample everything from garlic ice cream to garlic wine and the mayor dresses up as a large knob of the stuff, and one can see the danger. Fortunately, this is not happening. We certainly can find radicchio cookies, jam, pickles and grappa. The mayor of Treviso, however, has no chicory suit.
Yet.

With friends, I recently visited a radicchio tardivo farm where we saw the process for wrenching this vegetable from the earth. It is not so much cultivated as tortured into shape, with extreme temperature changes, forced growth in a dark, wet environment and then clipped into shape like so many poodles in a bucket. I have a great deal more appreciation for this plant and less willingness to alter its form. If you should be lucky enough to find it, why should any more be added to all that work? A little olive oil, salt, pepper. Done.

But for the Treviso radicchio (precoce) and for those who would like to take it beyond the pure form:


Gorgonzola Radicchio Appetizer


A nice balance of sweet and bitter with the perfume of blueberries. And very pretty on a plate

6 servings

A head of radicchio, or at least three leaves per person ( extra for mistakes)
6-8 ounces of gorgonzola, sweet or spicy, but not too soft.
Dried blueberries, 1 teaspoon per serving.
Frisee lettuce
Salt, pepper

Preheat broiler. Toss frisee lettuce with olive oil, salt and pepper and place on prepared plates. Remove and wash the radicchio leaves, keeping them as intact as possible. Plunge leaves in boiling water for 30 seconds to slightly soften. Pat dry on a towel. In a bowl combine room temperature gorgonzola with blueberries. Add a pinch of salt and pepper and mix well. Place a tablespoon of the cheese mixture in a leave of radicchio, roll up and place on cookie sheet. Close with a toothpick if needed. Broil rolls for approximately 1 minute. The gorgonzola melts quickly, keep an eye on them. Place on the bed of lettuce and serve.

Note: This works for many fillings. Try:
Sautéed mushrooms and fontina cheese
Ricotta and spinach
Sausage and parmesan



Pure and Simple Radicchio Tardivo Salad


We know that this version of radicchio makes its way to the US; we saw air cargo containers standing by at the farm for the flight to New York. If you are fortunate to find it, try this dressing:

1 tablespoon lemon juice
1 tablespoon Gorgonzola cheese
1 teaspoon Dijon Mustard
Olive oil, about 2/3 of a cup
Salt and pepper to taste.


Mix first three ingredients until it forms a paste. While stirring, add the olive oil in a drizzle. Keep whipping the mixture while adding oil so that it emulsifies and is the desired consistency. Add salt and pepper and drizzle over whole leaves of radicchio.


Radicchio Polpette Appetizers

From Anna Maria

100 grams of radicchio tardivo (4 ounces)
100 grams edam cheese (4 ounces)
1 pinch of salt
1 egg, slightly beaten
bread crumbs

Preheat oven to 150 C (300 F)
Finely chop the radicchio in a food processor and cut the cheese into tiny pieces. Mix together with egg and salt. Add enough bread crumbs to make a workable dough. Form into small balls, flatten slightly and place on un greased cookie sheet. Bake for 40 minutes and serve hot. Done.

Yield: About 12 polpette


The Original: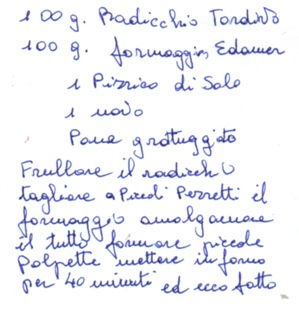 ~~~


Try radicchio in multiple ways. It can be eaten raw or cooked and although it loses a little of its color when cooked, it also adds a pink tinge to sauces. Chop it up into risotto, quiche, or stir-fry. Drizzle it with a little balsamic vinegar and chopped walnuts with chunks of gorgonzola. It is very popular to grill radicchio; it holds up well, takes on a different flavor and is an interesting addition to grilled vegetables.