Persico Impanato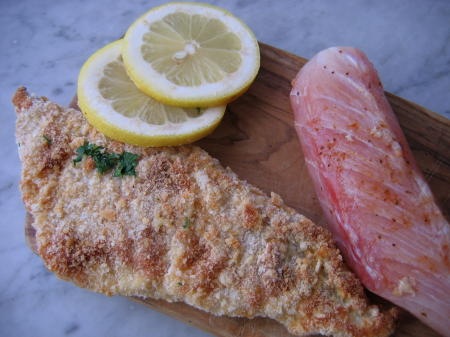 Once again I ventured into the fish department at the local supermarket in search of protein without the fat. I had a particular requirement: no bones. This eliminated the normal trout and salmon, but I understood Luciano's aversion. Very few things are as unnerving as biting into something and suddenly having a mouthful of elusive spines. More than once I remember as a child suddenly feeling a bone lodged in my throat and having a slice of white bread handed to me as a remedy-to move it along I suppose-as a sort of passive First Aid.

I asked the nice young man at the fish counter for a fish with no bones. He pointed first at a snake-like animal. I would have guessed it an eel had I not lost a year off my life trying to de-bone one last year for Luciano's birthday sushi dinner. No, no, not this time.

"How about the persico? No bones." He suggested.
Hmmm. That sounded like perch and the filets looked familiar, not like an adventure.
"Ok, I will take two filets."
"You are not Italian are you?"

I sighed. I will never give up hoping that I might not be pegged as American the second I opened my mouth.
"No, I am American, from San Francisco."
"Ohhh. That is where Bruce Lee was born."
"Oh, right." I had no idea. The fish guy in the Famila supermarket in Mareno di Piave knew where Bruce Lee was born. He then went on to inform me that before moving back to California from Hong Kong, he set up a karate studio in Seattle.

I love getting an education in my country while I shop for dinner.


Persico Impanato
Oven "Fried" Breaded Perch

Four fillets of fresh perch. You could also use bream, tilapia, or any white flesh fish.
Old Bay seasoning
½ cup flour
1 egg, beaten in a shallow bowl + 1 tablespoon cold water
1 cup breadcrumbs, ( Japanese panko are best, but you can make your own by toasting white bread then coarsely chopping it.)
A little oil
Lemon for garnish

*Or salt, pepper, thyme, cayenne. I would suggest something with a kick…tarragon for example, might be too delicate.

Sprinkle the fillets with a generous dusting of Old Bay seasoning. Let them sit a room temperature while preparing other ingredients. Preheat the oven to 350 degrees and place a rack in the top part of oven. Drizzle some oil on a cookie sheet or oven proof ceramic dish. Set up the flour in one plate, the egg in a shallow bowl and then the breadcrumbs on another plate. Dredge the fish first in flour, then dip it in the egg and finally coat well with the breadcrumbs. Place on a plate. When all the filets are ready, transfer the fish all at once to the cooking pan. Change the oven setting to broil and cook the fish for 5-8 minutes on one side or until brown. Turn the fish and broil until brown, about 5-6 minutes. Serve immediately with slices of lemon and chopped parsley. Ummm.