Pears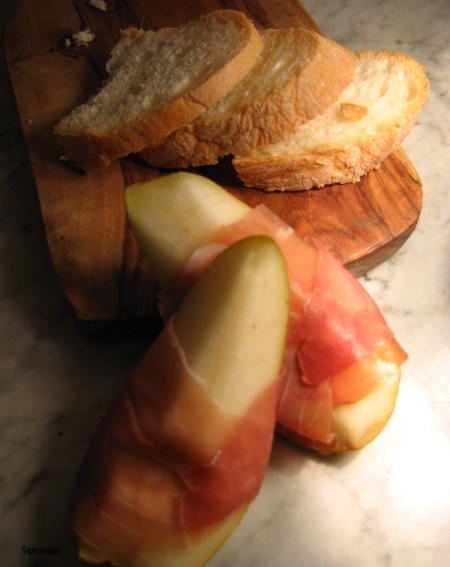 Pears with Prosciutto

Serves four

The classic paring of proscuitto with melon is lovely when melons are in season. But what do you do in the winter when they cannot be found? Use other fruit! In fact, I like this combination better than melon. I also have found that the best way to get Luciano to eat fruit is to wrap meat around it. A very little ham goes a long way; get the best.

3 ripe Anjou Pears
12 slices of thinly sliced prosciutto (or 3-4 ounces)

Wash, core and quarter the pears. Remove the skins if you like. I prefer to leave them on as they are a pretty contrast to the ham. Wrap one slice of prosciutto around each pear slice. Serve three slices per person as an appetizer at room temperature on a bed of frisee lettuce.




Pears Salad with Gorgonzola and Candied Balsamic Walnuts

Serves four

Another way to sneak fruit into the menu, this is a very nice combination of sweet and acid flavors with the crunch of walnuts. Very fast to assemble and it will impress.

Ingredients:
Walnuts:
2 tablespoons of balsamic vinegar
½ cup sugar
1 cup walnuts
(make in advance and keep in air tight container)

Dressing:
1 heaping tablespoon of Dijon mustard
1 tablespoon of balsamic vinegar
2/3 of a cup of olive oil
all approximate

Assembly
2 ripe peeled pears (Anjou, Bosc, Kaiser)
6-8 ounces of gorgonzola (if you have a choice: sweet, but not to runny)
1 head of favorite lettuce. (If you have a choice, lettuce of substance, leafy green, frisee, chopped romaine, but nothing too delicate as it will collapse under weight of pears.)

Cooking Instructions:
Walnuts: Heat the sugar and vinegar in a saucepan on low heat, stirring until all is dissolved. Pre-heat the oven to 350. Add all the walnuts at once to the saucepan and stir, making sure all nuts are evenly coated. Quickly spread the walnuts on an un-greased cookie sheet and bake for ten minutes. Toss once during cooking. Let them cool enough to chip off the cookie sheet and then cool completely on a paper towel. Store in airtight container.

Dressing:
Make a paste of the mustard and vinegar in a jar. Beat the mixture as you slowly pour a thin stream of olive oil into the paste. It should emulsify. Add enough oil to bring it to the right consistency. Add salt and pepper to taste.

On a bed of lettuce, place slices of peeled pears and chunks of cheese. Drizzle the dressing over the salad and toss a handful of the walnuts on top.



Pere Cotte con Gelato
Poached Pears with Ice Cream


Contributed by Laura B

This is a classic fall and winter Venetian dessert. It is not difficult to make, but it is very classy and sure to make an impression You will need to start this one day in advance.

Pears:
½ bottle of Moscato ( sweet wine wine)
3 tablespoons of sugar
3 tablespoons of apricot preserves
lemon peel
6 Kaiser pears

10 ounces of bittersweet or good dark chocolate, broken into chunks

Combine the first four ingredients in a large heavy saucepan. Bring to a gentle boil, stirring to dissolve the sugar. Place the peeled pears upright in the pan and spoon the above mixture over them. Reduce the heat, cover and cook for about 30 minutes or until pears are tender. Cool pears completely in syrup and store, covered, overnight.

Ice Cream:
16 ounces of heavy whipping cream
½ cup of sugar
2 tablespoons of milk
1 teaspoon of rum

Mix all ingredients in a mixer, whipping to soft peaks. Spoon mixture into a loaf pan or oblong mold. Place in freezer overnight.

Assembly:

Allow the pears to come to room temperature. Heat the cooking liquid until it begins to thicken. In a separate pan (or in the microwave) gently melt the chocolate. Unmold the ice cream and cut into slices. Place one slice on a plate, place the pear on the ice cream and pour a bit of syrup and then a bit of chocolate over the entire pear. Serve immediately