Carnevale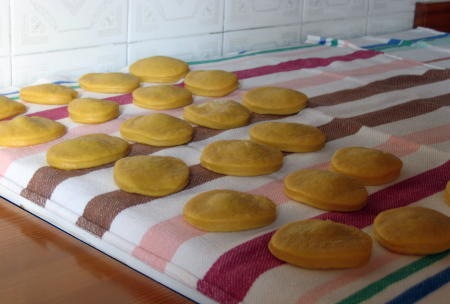 January and February are the season for deep fat fried desserts. Hardly the recovery food from the excesses of Christmas, they are a sinful temptation and, unfortunately, not only omnipresent, but easy to make. Crostoli, a deep fried cookie that comes in several shapes and sizes (according to what side of the Piave you are on) and frittelle, a kind of a sweet hushpuppy with dozens of variations. My favorite are plain, but in every bakery window there are mountains of frittelle with raisins, pine nuts, ricotta cheese, zabaione, walnuts and pastry cream. Galani, a variation of crostoli are a simple strip of dough, quick fried and eaten even quicker and krapfen, little fried filled doughnuts are a favorite of Anna Maria and Giancarlo. They make them every year together and I usually get a large sample when I get home in the evening. This year I asked them to teach me how and here is what we did:


Krapfen

Anna Maria and Giancarlo

3 eggs (3 yolks + I egg white)
A pinch of salt
4 tablespoons of sugar (one per egg + one for the cook)
180 grams of melted butter (20 grams per egg)
2 scant tsp of rum flavoring
2 scant tsp of lemon flavoring
50 grams of fresh yeast dissolved in ½ glass of warm water
Blackberry or raspberry jam. Giancarlo suggests not using a very sweet jam, like apricot.

Mix eggs, salt and sugar. Add butter, flavoring, flour and yeast mixture, in that order. Knead until smooth. Cut into workable pieces and run through the pasta machine at #1 setting (not too thin). Drop a teaspoon of jam on each strip of dough, far enough apart to form little "ravioli" and then place another strip of pasta on top. Anna Maria and Giancarlo worked with a strip big enough to make three krapfen at a time, using a glass or a round cookie cutter. The action of cutting seals the edges. Allow to rise for one hour. They told me that they never have the patience to let them rise for any longer.

Heat oil until a bit of batter floats to the top right away. Fry the krapfen until golden brown, turning as they cook. Drain on paper towels and enjoy. They do not add powdered sugar, but I think it would be nice. I also would omit the rum flavoring as I do not really like it…but that is just me.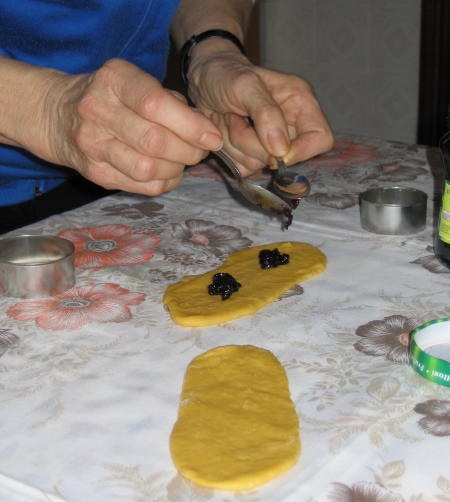 ~~~


My students Giupi, Cate and their mother Laura invited me to make galani, one afternoon in place of a lesson. The rule was we had to speak English. Above the racket of the motorized pasta machine, Laura explained the simple ingredients:


Galani


Per egg used:
150 grams of flour
1 teaspoon of sugar
1 tsp oil (not olive, sunflower is good)
1 tsp of grappa
1/4 tsp of anise flavor
½ of vanilla
A pinch of salt

We used 5 eggs, so just multiply.

After kneading the mixture run it though a pasta machine (to #2 thickness) or roll it out to about 1/8 of an inch thickness. Cut into long strips and drop into hot oil. As soon as they are puffed up and a golden brown, toss them onto paper towels and dust with confectioner sugar. Eat immediately.


(and remember to check the archive for previous recipes)