The Almond Cake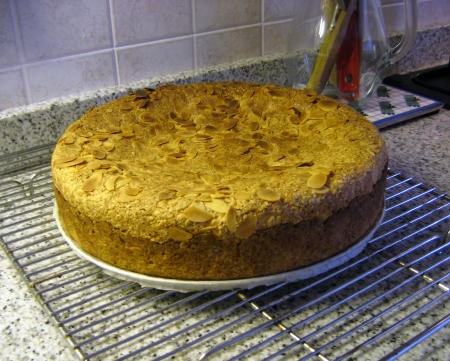 Luciano's parents take their desserts seriously. Anna Maria is a sucker for whipped cream and creamy fillings while Giancarlo likes his desserts dry. He is spectacularly particular and has been known to call ahead to a restaurant to inquire on what kind of dessert will be on the menu so that he can be prepared to bring his own if needed. He has even offered to purchase an entire cake if the kitchen would agree to make him an almond cake and woe to the establishment who refuses to cooperate. I have eaten the cake he likes, dense and nut-rich surrounded with a crispy crust, made by a bakery in a nearby town.
I have been trying to reproduce his favorite cake for four years now. I finally saw what might have been the perfect cake on the popular cooking show La Prova del Cuoco, but I missed most of the demonstration and saw only the finished result. Undaunted, I tracked down the recipe in a cookbook published by the program and memorized the list of ingredients while standing in the bookstore. Guessing at the instructions and as a result of detective work to adapt to American ingredients and measurement, and with repeated testing on the willing guinea pig next door, I can now present:

Giancarlo's Almond Torta
Serves 6-8.
Preparation time, including chilling, about 3 hours.

Cake
300 grams of sugar (or 1 ½ cup)
2 eggs
2 egg yolks
90 grams of flour (or 1 scant cup)
2 tablespoons of baking powder
1 tsp of almond extract
225 grams of finely chopped almonds (or 2 ¾ cup)
A pinch of salt
200 grams of egg whites (or 1 scant liquid cup or 6-7 egg whites)
½ teaspoon of cream of tarter
Optional: 1 cup blanched sliced almonds and 1 ounce of dark chocolate

Preheat oven to 350 degrees.
In a large bowl combine sugar, eggs and egg yolks. Mix at medium speed until thickened. Add the flour, almonds, salt and finally, the baking powder. Mix well. Set aside. Beat egg white until foamy. Add the cream of tarter and beat the whites to stiff peaks. Fold egg white into the almond mixture being careful to not deflate them. Pour carefully into prebaked pie shell (see below), sprinkle with blanched sliced almonds and bake for 45 minutes or until a tester comes out clean. Do not over bake. The cake will collapse a bit after you remove it. Cool and remove from cake pan. Melt chocolate and, with a fork, dip and wave the chocolate over the cake in one direction.


Pie Shell/Pasta Frolla
Based on Sweet Cookie Tart Crust from the Pie and Pastry Bible by Rose Levy Beranbaum

113 grams unsalted butter, cold and cut into cubes (8 tablespoons)
50 grams sugar (1/4 cup)
200 grams of flour (1 ½ cup)
1/8 teaspoon of salt
1 large egg yolk
2 tablespoons of milk

*optional: 2 ounces dark chocolate, melted.

In a food processor pulse the butter and sugar about 15 times or until the sugar is absorbed. Add flour and salt and pulse another 15 times or until the butter is as small as small peas. In a separate bowl, mix the milk and yolk. Add to the flour and pulse just until incorporated. It will be crumbly. Empty it all into a plastic bag and press from the outside until it holds together and is smooth. Flatten into a 6-inch disc and chill, in the fridge for at least thirty minutes and in the freezer for at least ten minutes.

Tip: Line the bottom with parchment paper, trapping it between the bottom and side of the spring form pan. Trim edges.

Roll out the chilled dough on a large piece of plastic wrap to fit a 10 inch spring form pan. Transfer the dough to the pan. Because this is a soft dough, it will fall apart a little, but just press pieces into place to complete the crust. Chill for at least 30 minutes in the freezer or at least three hours in the refrigerator. Preheat oven at 350. Line the pan with parchment paper and fill with raw rice or beans to keep it flat. Bake for 10 minutes then remove the paper and rice, keeping an eye on the pastry, bake and additional ten minutes or until shell is golden brown. If it puffs up, poke it with a fork until it flattens. Remove from oven and cool.

*Optional: Paint the entire bottom and up the 2 inches up the side with melted dark chocolate. Allow the chocolate to cool in fridge until hard (about 15 minutes) then follow directions for the cake. This adds a delicious layer that also helps to prevent the crust from getting soggy.