The Reading Room
Aug 12, 2012 - 17:11

"Are you still in your hobo phase? Luciano wanted to know what to do with his redeemable coke bottle and if I was still on my mini boycott. As usual, when I carry out my demonstrations, no one really notices. I once protested my gardening limitations at home by not planting anything in the corner garden for a year and all I got was compliments on how tidy the space was.

Bucking the system here in Berkeley was just too hard. If I left those bottles in the recycling, we were subject to late night foragers who were essentially stealing, not to mention waking me up. If I wanted to be sure that the money went to the city, I had to make a trip down to the miserable recycling center, spending more money and time than the whole exasperating event was worth. And it was painfully clear that I would never get any refund. Discouraged by the whole urban thing I shook my head at Luciano.

"No, I guess not."

"Ok." Without a care in the world, he walked out the door and I heard a solitary
clink
as he tossed away his right to five cents and headed off on one of his afternoon walkabouts.


~~~


I went for a run to try to shake my frustration. Along the way I noticed a coffee maker, a nice pair of shoes (brown pumps, size 9, I'd say) and a machine for pitching balls for batting practice all placed carefully on the sidewalk for someone to pick up. This was nothing new. Free boxes are a part of life in Berkeley. With this system over the years I have procured several suitcases, a dress form and a vacuum cleaner that lasted me fifteen years. But really, isn't it just garbage? I ran on…

At the top of steep Marin Avenue I paused for breath with hands on hips. Panting, I gazed around me but this time unlike before, I turned my gaze a full circle. In front of the house at the corner was a small wooden box on a pole. It had a pitched roof and a sign on the little wooden door: Little Free Library.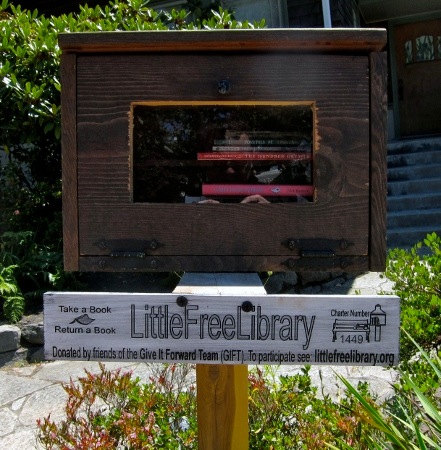 The sign above the door encouraged passersby to take a book, leave a book, and to read. A notebook was tucked into the box, a sort of check-out system, and I flipped though it reading comments from grateful readers. How nice. I made a selection and with a book tucked under my arm continued my run. Not an easy thing to do, but I couldn't resist what I found: a beautiful copy of The Hundred Dresses by Eleanor Estes; book that pulled from my childhood, something I had read…..



Berkeley glowed under the crisp afternoon sun as I trotted along the crest of the hills, through a tree lined path between the funky houses and down crooked stairs that dropped onto a street that used to be part of the famous Key Route streetcar system. At the base of the stairs, pushed under a tree, was a box of children's toys, primary colored bits of plastic, looking for a new home.

Later I sat with a cold beer on a park bench, nicely warm in the waning sunshine and read The Hundred Dresses. A little girl passed by, then paused, turned around and came back to me.

"That is a great book." She whispered.

"I know. Thank you." I whispered back


~~~


Three days later found me cruising around on my bike. With no particular destination I swung up random streets, trying to make some kind of circular progress while avoiding the steepest hills, both up and down. Having crossed over into El Cerrito this is not an easy thing to do…after all the name of the town means little hill, a legacy of the Spaniards who wrestled the land from the original Ohlone Indians. As I took a curve I saw a sign out of the corner of my eye: Recycling Center. Hah! Maybe I can get outsmart everyone up here in the quiet El Cerrito hills…which is a bit redundant, actually.

The gears on my bike quietly whirred at the top of the hill as I coasted into the parking lot of the El Cerrito Recycling center, which I am here to tell you is a magical place. Unlike its grubby counterpart on the other side of town, the air blew fresh across the clean and open center where cars could pull up to numerous well marked bins: batteries, paper, plastic, anything with a plug. A man sat in the back of an enormous Goodwill truck, reading a book in quiet solitude while waiting to intercept items for the store that might otherwise end up in a landfill. A man pulled up to the paper bin and slid a load of flattened cardboard out of his life. He stopped by the Goodwill truck and handed over a small pink bike. Even the garbage was prettier in El Cerrito. How logical. How peaceful. Were it not already idyllic, I could imagine soft new age music playing in the back ground…maybe some wind chimes?

But it got better. I locked my bike, so not to have it confused as a donation, and wandered over to a covered section where I stumbled upon the greatest discovery of the summer: The El Cerrito Recycling Center Library.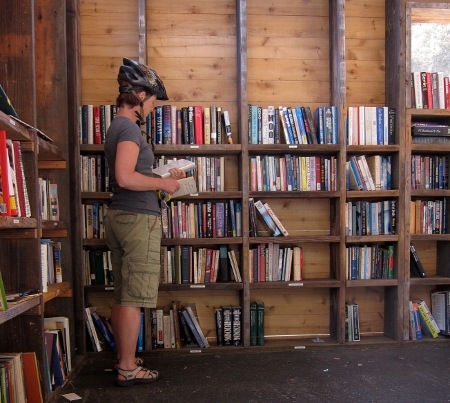 At this gracious and dignified end of the road for most of the material items in this small town, someone had built bookshelves, a roof and even nice benches for relaxing with a book…at a dump. Not only that, an impressive effort had been made to pull donated books from the bins and place them on the shelves in some sort of organization. Cookbooks, language, novels, travel. I stood in delighted confusion. A gentle breeze cooled my neck. A woman was browsing nearby.

"How does this work?" I asked.

"You pick what you like and you take it home. Luckily you only have a small back pack."

She had no idea how much I could jam in that little backpack. I loaded up on a few novels, a few grammar texts, a copy of Writing Down the Bones by Nathalie Goldberg (one can never have too many copies of that) and a copy of Sense and Sensibility for my student Elena who is passionate about Jane Austin. Who could imagine that Jane Austin would go into a dumpster in Northern California, be fished out and placed on the shelf of a makeshift library and then make its way across the ocean into the hands of a young Italian woman who met a German boy over the summer and now finds a new urgency in learning English?

I sighed happily as I climbed onto my bike. It all makes sense. Berkeley gives and takes. Scavengers can rummage through my bottles and the city can have my five cents. All I need to do is wait and wander. Whatever I think I have given up is sure to come back to me in one form or another.