Just Write
Sep 30, 2009 - 14:33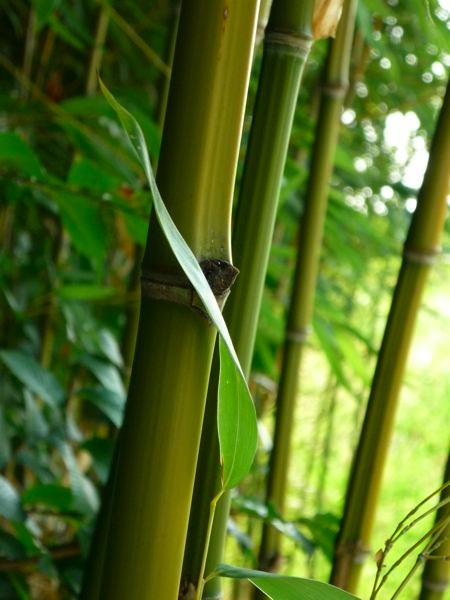 Ok. There are about four stories swirling about in my head… how do I get them out of there so I can think straight? Like a tangled ball of thread, I think I only need to find the beginning…or end for that matter. I have been picking at this knot for weeks, but now I am worn down and just need some peace. Stand back. This may get a little messy.

~~~

In Berkeley friend asked as we were getting ready to return to Italy, "Can you rate your summers? Can you tell me which ones are better than others?"

"No," I answered quickly, but I must add here that each summer has different themes. This was the summer of pineapples, bamboo and over-tipping. The summer before, it was yoga, sourdough bread and driver licenses. Being so clearly separated makes it easier to categorize, but certainly not rate.

This was also the summer of a Seattle weekend, a road trip to the Sonoma coast, and a book presentation that knocked me sideways with nervousness. Friends of mine invited me to present my book, Stories from Italy, News from Mareno at their gallery in San Francisco. Sure, I thought, why not? Easy.

"Ok, Luciano, listen to this." I locked my eyes on his as I concentrated on connecting with the audience while I recited the text I had memorized.

"-So this event is not about me, but about Italy, that straightforward, but complicated country so connected to the earth, yet out of touch with reality. Italy is a land where one stoically waits four years for a tax refund and where you can't buy chocolates in the summer because it is just too hot---Hey, why are your eyes glazed over?"

"Serena, you are so good at telling stories. Why don't you just do that? What you're saying sounds fake. It's boring"

So I threw away the notes and, facing a truly affable audience made up mostly of my supportive friends who would have politely applauded anything I said, just told stories. After a bumpy start during which I am sure I said some very stupid things, I started telling stories. Then it was all ok. And my friends applauded.

This was also the summer of dinner parties, backyard lemons and universal health care. My friend Elizabeth, in her enthusiasm, booked us for three dinner parties in a row and she and her husband entertained us all summer long, alternating erudite dinner guests with whom we had lively discussions about the shockingly vitriolic reaction to the new president's ideas on health care. I still cannot understand the rancor…don't Americans want health care? Do they really think it can be provided for free? Elizabeth cooks delicious bistro style food in colossal proportions, but no dessert. Someone always brings some homemade marvel to gushed compliments. As she says, "You know, you cook all day and then someone brings a pie."

It was the summer of Berlusconi and Henry Gates, of gifted painters and ancient quilts. After many years I finally got my hands on my great aunt's quilt that used to cover my mother's bed. In my memory it has a striking black background with vivid fans dancing across it. I used to imagine them as tiny skirts. But in my hands now, as an adult, it is faded and fragile, a bit shredded here and there, even disintegrating to my touch in places. Without hesitation I launched into "save the quilt" campaign which involved stripping out the matted batting and pulling away the tissue paper thin backing. As I separated these layers for the first time in over a century, I imagined a hidden love letter or perhaps a photograph sewn into the folds. But no, I uncovered only a single non-matching square and lots of work that ultimately was beyond my abilities. I imagine that many a well-intentioned descendant gets to this point then gives up and there must be countless half-restored quilts stuffed in closets everywhere across America.

Yet, I did not let this (or the fact that Luciano wrinkles up his nose at the old smell of the quilt) slow me down. I took it up to a professional who, while a little wacky, pulled it apart in order to get it together enough that I can finish it myself. Instead of repairing the threadbare squares, she just removed them and moved other stronger ones into their place. She called it plastic surgery and while the quilt is one row smaller than before, it can be saved.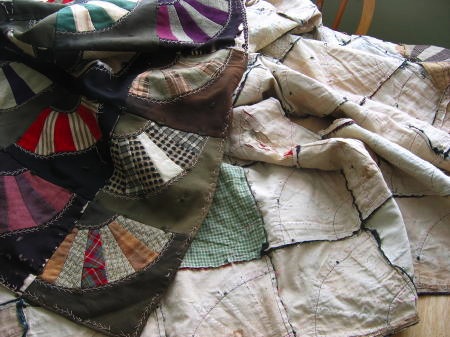 This summer we endured Gigio the car's capriciousness, Ikea misadventures and volunteer dog walking. Once again I braved a possible bad experience and went to work at the Berkley Humane Society. Last year I was assigned to the morning poop patrol. Deemed untrained to actually take a dog for a walk, I spent two months with rubber gloves, a hose and a very stiff broom, cleaning up the kennels. One day a volunteer did not show up and I was instantly promoted to feeding duty. Since I was personally invested into what came out of the dogs, it was satisfying to be involved in what went into them. It being my job to clean it up later, I should have just eliminated the middle man and thrown it directly on the floor.

This year I was promoted to walking the dogs. This was after hours of training that, despite spending my life with dogs, succeeded only in making me more nervous. But for good reason. These dogs have problems. They have issues. It is like taking a heavily-armed mental patient for a walk around the block. I marveled at the occasional passersby who approached us, clueless of the potential danger. But, even though I still had to pick up poop and was never truly sure what they might do, I liked seeing those dogs outside, in the real world.

This was the summer of lush Berkeley gardens, bamboo forests and hidden pathways. Luciano, after logging hundreds of miles during daily urban hikes, purchased some extremely heavy books on bamboo. I guess he is due. I, after many fewer miles, bought one book on the gardens of Keeyla Meadows, a Berkeley artist/gardener whose hidden backyard seems to be pretty much open to the public. As well it should be, it being a playful place of bodacious color, movement and beauty. Add ten copies of my own darn book and, in the controlled chaos that we always experience preparing for the return to Italy, we had no room for the quilt. Or the Humane Society T-shirt. Nor, for that matter, my All Clad pan with which I too could make bistro style dinner of colossal proportion. Next year, perhaps.

Now, suddenly, we are in the late summer heat of Italy where we have already hit both the fish and corn festivals, harvest tractors rattle down Strada Nuova and where surprisingly the tomato that I planted in my bathmat-sized garden back in June is still producing; one tomato at a time. I am going out now to pick it, along with the pungent leaves of the late harvest basil to cut up with the mozzarella di bufala that I bought on my evening bike ride to Mio Market right here in Mareno di Piave.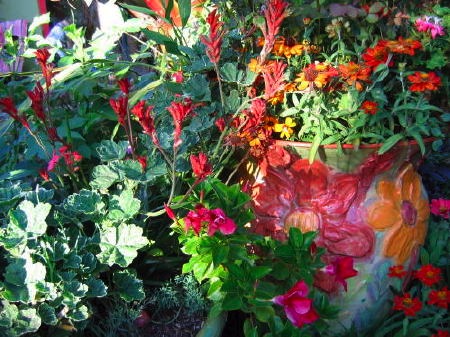 Keeyla Meadows' garden, detail